Social Enterprise
The vast range of Social Enterprises that serve the needs of individuals and Communities is a particularly UK phenomenon, and works to fill the gaps left by the retreat of government from social support. Many social enterprises have protection of the environment as central features of their missions.
Social Enterprises cover a vast range of different kinds of activities. Their primary characteristics are:
Social enterprises can have both business goals and social goals. As a result, their social goals are embedded in their objective, which differentiates them from other organizations and corporations. A social enterprise's main purpose is to promote, encourage, and make social change. Social enterprises are businesses created to further a social purpose in a financially sustainable way. Social enterprises can provide income generation opportunities that meet the basic needs of people who live in poverty. They are sustainable, and earned income from sales is reinvested in their mission. Other Social Enterprises work on a mixture of earned income and grants
There is a huge number of small local enterprises which tend to fall under the national radar. The great value of these thousands of enterprises is the fact that they work in local communities, are close to the people they serve, and employ a mix of full time, part time and volunteer staff. Many of these thousands of social enterprises exist on grants, some have a mix of grant and earned income, but the primary characteristic is that they are bound to redeploy all surpluses back into the enterprise, and cannot have shareholders who receive an income from their investments.
In this regard, social enterprises are driven by their missions to bring improvements to the lives of individuals and communities, and not the profit motive.
Types of Social enterprise
Community Interest company
community interest company (CIC) is a type of company introduced by the United Kingdom government in 2005 under the Companies (Audit, Investigations and Community Enterprise) Act 2004, designed for social enterprises that want to use their profits and assets for the public good. CICs are intended to be easy to set up, with all the flexibility and certainty of the company form, but with some special features to ensure they are working for the benefit of the community
Co-operatives and employee owned organisations
There are two key processes driving the current growth in employee and worker ownership. The first is the conversion of smaller and family-owned businesses using the Employee Ownership Trust (EOT) model and/or hybrid with employee shareholding schemes. The second is start-up of businesses that are worker-owned either from the outset or very early in their evolution, using the worker co-operative model.
Practical experience suggests the EOT model is particularly well-suited to the conversion of SME and family-owned businesses, it allows for a phased, full or partial, transfer of equity and control which locks in collective employee ownership and stewardship of the business for the long term, whilst protecting local jobs and supply chains.
Charities
A charitable organization or charity is a non-profit organization whose primary objectives are philanthropy and social well-being. The legal definition of a charitable organization varies between countries and in some instances regions of the country.
A charity is an organisation with specific purposes defined in law to be charitable – and is exclusively for public benefit.
This means a charity has to fall into one of a number of categories defined as charitable, such as the prevention or relief of poverty. Its sole purpose must be charitable. It can't, for example, also aim to make profit or do something that isn't defined as charitable, or provide 'private benefit' to anyone. The benefit must clearly be for the general public, or a sufficient section of them.
CIO
Charitable Incorporated Organisation (CIO) is a corporate form of business designed for (and only available to) charitable organisations in the United Kingdom. CIO status is conferred by the Charity Commission on application by a charity, whether new or existing.
The main benefits of the form are that the charity has legal personality (the ability to enter contracts, sue and be sued, and to hold property in its own name - rather than in the name of its trustees), and its members have limited liability (their liability in the event the charity becomes insolvent is limited or nil).
Historically these benefits were only available to limited companies, and many charities chose to incorporate as charitable companies limited by guarantee. However, this requires registration and filings with both Companies House and the Charity Commission, each of which has its own regulations and requirements. In contrast a CIO only needs to register and file accounts and returns with the Charity Commission. This aims to reduce bureaucracy for the charity.
Example of a small local Community Interest Company –
Ipswich Community Media CIC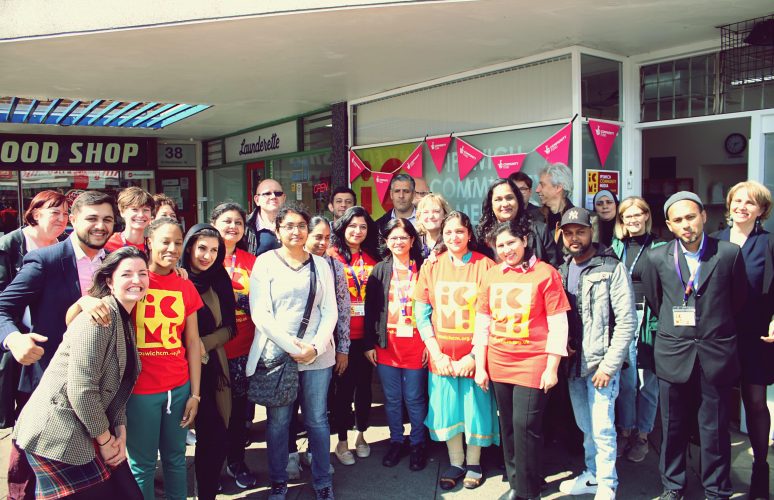 ICM staff with learners, volunteers, and friends at our IConnect Launch
"Supporting our community through learning, volunteering and media. Launched in 2015 as a Community Interest Company by a group of people with a shared vision to serve the local community through music, media, the creative arts and language learning. ICM's focus is rooted in a deep belief in fairness and social justice to work with those at the very margins of society to make Ipswich a better place for all. All of our offerings are free at the point of access because we passionately believe that open access for the most disadvantaged in our community is vital for a healthy inclusive society. We are based just off Norwich Road in Ipswich, one of the most diverse and exciting areas of our town. It is also an area with many challenges, as Westgate Ward is one of the most deprived wards in the country. But with around a third of local residents from migrant and refugee communities we are proud to be part of such a diverse neighbourhood."
Size of the Social Enterprise Sector
Social Enterprise UK estimates that the sector contains more than 100,000 enterprises which turn over more than £60 billion and employ about 2 million people. This may be an underestimate, and certainly ignores the large number of volunteers working locally in the sector.
New evidence shows social enterprises are performing better economically than traditional firms
Sector employs 1 in 20 people and accounts for 3% of GDP – three times larger than agriculture and as big as creative services, and 5% of all UK employment
Social Enterprise and the Environment
As well as serving the needs of the community, many social enterprises also have a duty of care for the environment built into their objectives. The social enterprise sector covers vast range of different activities, some have national coverage, most are smaller and, like Ipswich Community Media, are mainly grant-aided and rooted in local communities.
Also, Social Enterprises are becoming a valuable supplement to government provision of social services, and in some cases are far closer to communities in need of support. They are also becoming an essential counterbalance to an increasingly rampant commercial sector.
AND…… The British Broadcasting Corporation, which is supported through a license fee is refreshingly advertisement-free and is respected world-wide as an impartial and balanced source of news on world events.