Free Markets Under Pressure
Those countries that have embraced the Free Market most ardently are characterised by:
"Leave it to the Market" philosophy
Inability of central governments to coordinate action in crises
Gross and growing inequality
The United States by reason of its commitment to "Competition" and a Market economy is likely to be the hugely exposed to Climate Change and least able to respond effectively to a Pandemic. Here are its responses to Climate Change and Coronavirus.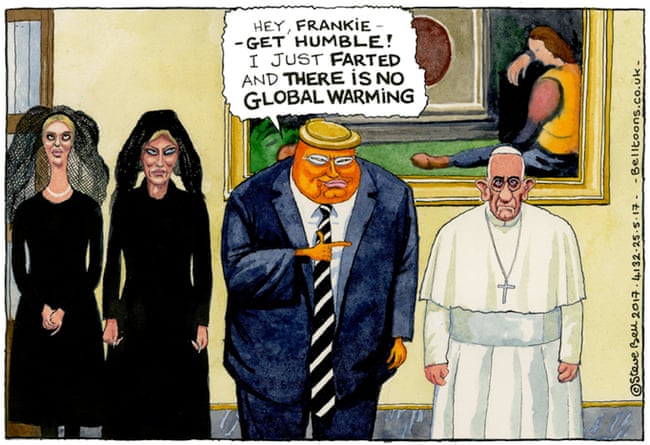 First: Environmental Protection
The United States does not compare well in its overall environmental protection performance…….
The United States places 27th in the 2018 EPI, with strong scores on some issues, such as Water & Sanitation and Air Quality, but weak performance on others, including deforestation and GHG emissions. This ranking puts the United States near the back of the industrialized nations, behind the United Kingdom (6th), Germany (13th), Italy (16th), Japan (20th), Australia (21st) and Canada (25th).
The environmental policy of the Donald Trump administration represents a shift from the policy priorities and goals of his predecessor, Barack Obama. While Obama's environmental agenda prioritized the reduction of carbon emissions through the use of renewable energy and aimed at conserving the environment for future generations, the Trump administration has sought to increase fossil fuel use and scrap many environmental regulations, which he has referred to as impediments to United States economic and energy output.
As a presidential candidate, Donald Trump campaigned on a pledge to roll back government regulations and, within days of taking office, he began to implement his "America First Energy Plan" —which does not mention renewable energy—to loosen regulations he saw as stifling businesses and U.S. energy output. In September 2019, the Trump administration repealed the Clean Water Rule. The administration has called for more drilling in national parks and announced plans to open up more federal land for energy development. In 2018, the Department of the Interior announced plans to allow drilling in nearly all U.S. waters, the largest expansion of offshore oil and gas leasing ever proposed. In September 2019, the Administration completed plans for opening the entire coastal plain of the Arctic National Wildlife Refuge to drilling for gas and oil
President Trump's appointments to key agencies dealing in energy and environmental policy reflect his commitment to deregulation, particularly of the fossil fuel industry. Three of the four chair-level members of Trump's transition team commissioned to draw up a list of proposals to guide his Native American policies had links to the oil industry.
In April 2018, the administration announced plans to undo the Obama administration's auto fuel efficiency and emissions standards. The administration also proposed significant cuts in funding for the Endangered Species Act in 2018 and, in 2019, it announced major changes in how it is to be implemented. The Trump administration is also noted to have rewritten the EPA's pollution-control policies—including on chemicals known to be serious health risks—particularly benefiting the chemicals industry.
President Trump's appointments to key agencies dealing in energy and environmental policy reflect his commitment to deregulation, particularly of the fossil fuel industry. Three of the four chair-level members of Trump's transition team commissioned to draw up a list of proposals to guide his Native American policies had links to the oil industry. In July 2018, amid numerous ethics investigations, In April 2018, the administration announced plans to undo the Obama administration's auto fuel efficiency and emissions standards. The administration also proposed significant cuts in funding for the Endangered Species Act in 2018 and, in 2019, it announced major changes in how it is to be implemented.
The Trump administration is also noted to have rewritten the EPA's pollution-control policies—including on chemicals known to be serious health risks—particularly benefiting the chemicals industry. A 2018 analysis reported that the Trump administration's rollbacks and proposed reversals of environmental rules would likely "cost the lives of over 80,000 US residents per decade and lead to respiratory problems for many more than 1 million people."
Trump has pulled the United States out of the Paris climate accord, leaving the U.S. the only nation that has not joined the agreement. He left both the 44th G7 summit held in Canada and the 45th G7 summit held in France early, avoiding the environmental discussions. Trump and many of his cabinet appointees say they do not believe carbon dioxide is a primary contributor to global warming. Responding to a 2018 government-funded study which warned of potentially catastrophic climate change impacts, Trump said he had read part of the report but did not believe it. In a White House speech, Trump hailed "America's environmental leadership" under his watch, asserting his administration was "being good stewards of our public land," reducing carbon emissions and promoting the "cleanest air" and "crystal clean" water. Experts noted that his cited achievements were the result of actions taken by his predecessors going all the way back to the Nixon administration.
The net result of "Trumpian" Free Market dogma has been to significantly weaken the ability of the US government to participate fully in action against global warming and indeed to exercise strong control over the US environment. Most of the action to control global warming inside the USA has been left to action by individual states, some of which have been very active and some of which have not. But the main issue is that the ability of the USA as a nation to make a full contribution to ameliorating global warming has been seriously degraded by the twin facets of the weakening of the Federal Governments capability to act and the whims of a president who does not believe in the human contribution to global warming!!
President Trump has made eliminating federal regulations a priority. His administration, with help from Republicans in Congress, has often targeted environmental rules it sees as burdensome to the fossil fuel industry and other big businesses.
A New York Times analysis, based on research from Harvard Law School, Columbia Law School and other sources, counts more than 90 environmental rules and regulations rolled back under Mr. Trump.
Health and the Coronavirus
Despite President Trump's wild assertions, it does not appear as though the US is performing very well in controlling the Coronavirus pandemic.

The Pandemic is affecting most countries in the world. The world's richest country is the United States, so it would be reasonable to assume that the American response to the spreading infection would be very effective. But it appears that the Federal government and president Trump, are leaving most of the response to individual US states, many of which are struggling to provide sufficient hospital facilities and equipment. A more recent manifestation is competition between states for resources and equipment.
National Institutes of Health
The White House plan would give the National Institutes of Health (NIH) US$34.4 billion, roughly $5 billion below the current level. The plan would replace the Agency for Healthcare Research and Quality (AHRQ), an independent agency in the Department of Health and Human Services, with a new NIH institute, the National Institute for Research on Safety and Quality.
"I think it would be a disaster for science if it was enacted," says Benjamin Krinsky, associate director for legislative affairs at the Federation of American Societies for Experimental Biology in Bethesda, Maryland.
How does the Free Market perform?
The essential differences between Social Market societies and those in the grip of Neo-liberal, Free Market dogmas lie in the roles of government, especially national governments
The United States is a prime example of a Free Market country, which has diminished the roles and powers of Federal agencies.
What has this to do with Coronavirus??
President Donald Trump on Tuesday appeared to condition giving federal aid to fight the coronavirus outbreak on whether states "treat us well." (ie support him).
Several state and local leaders have criticized Trump's slow response to disbursing national resources to state governments. Mayor Bill de Blasio of New York City told NBC's "Meet the Press" on Sunday that he had repeatedly asked Trump to provide federal aid with the city's coronavirus cases continuing to spike.
"The president of the United States is from New York City, and he will not lift a finger to help his hometown," de Blasio said. "And I do not get it. I do not get it."
He added: "I can't be blunt enough. If the president does not act, people will die who could have lived otherwise."
Gov. JB Pritzker of Illinois called out the federal government over the state's shortage of masks and ventilators.
"This should've been a coordinated effort by the federal government," Pritzker told CNN's "State of the Union" on Sunday.
Trump responded to Pritzker's comments on Twitter, saying governors shouldn't blame the federal government "for their own shortcomings."
"We're there to help them," Trump said. "They need to get the gear themselves!!"
The National Guideline Clearinghouse is a federal database intended to help doctors answer almost any medical question you can think of: Can this emergency room patient tolerate a procedure that normally requires an empty stomach? Does that patient need a stent? Which antibiotic should this patient be started on?
If that sounds like a small matter, it isn't. The sheer volume of medical information now within a few clicks' reach can make it difficult, even for doctors, to separate wheat from chaff. Clinical guidelines based on careful consideration and solid impartial research can be difficult to tell apart from those based on weak data, or rooted in a clear conflict of interest (usually a financial stake in whatever treatment they are promoting). The clearinghouse, which not only vets countless sources of medical information but also makes its results easily searchable, is regarded as the most dependable repository of its kind in the world.

The Department of Health and Human Services took it offline, the latest casualty in an administration determined to eliminate science from the government's agenda.
Centers for Disease Control and Prevention
The Centers for Disease Control and Prevention was not able to conduct "in-depth investigations to identify and link outbreaks that may be occurring simultaneously in multiple states" or provide flu surveillance due to the furloughing of 68% of its employees.
National Institutes of Health
The National Institutes of Health ceased research conducted at its headquarters in Bethesda, Maryland and did not enroll new patients in medical trials. NIH recently completed one round of grant-making to outside researchers and applications for the next round were due on October 5. The related National Institute of Environmental Health Science ceased research conducted at its headquarters in Research Triangle Park, North Carolina. On the NIH official website, a warning was posted as a banner headline on all of its pages that read, "Due to the lapse in government funding, the information on this web site may not be up to date, transactions submitted via the web site may not be processed, and the agency may not be able to respond to inquiries until appropriations are enacted."
Fears of a pandemic come after the Trump administration spent the past several years gutting the very government programs that are tasked with combatting such a crisis.
In 2018, for instance, the CDC cut 80% of its efforts to prevent global disease outbreaks because it was running out of money. Ultimately, the department went from working in 49 countries to just 10.
Here are some other actions the Trump administration undertook to dismantle government-spending programs related to fighting the spread of global diseases, according to Foreign Policy:
The Trump administration badly undermined the effort to contain the coronavirus outbreak by getting rid of most staff tasked with identifying global health problems in China while repeatedly attempting to slash funding for the Centers for Disease Control and Prevention (CDC), according to a new report by an environmental watchdog.
US compared with UK
Britain is the same as America – a free market country surely?
Margaret Thatcher and President Donald Reagan had a love-in sharing the same free market views. So why are we not assuming that the two countries are responding in exactly the same way? The answer is probably to be found in the fact that the UK never abolished the National Health Service. Even Margaret Thatcher didn't dare touch that precious national asset, and despite the sneaky efforts of succeeding Tory governments to privatise elements of the health and social care systems, the essential elements of a national system of healthcare free at the point of delivery have remained. Britain's responses to a global crisis are vastly better than those of the US.
But the structure of central government facilities to support a national response to the pandemic seems to have been disgracefully neglected. Since the outbreak of the virus in the UK, the Health Service has responded magnificently with huge public support, but the Conservative government has been woe-fully slow in coming forward with medical supplies.
Letter to America
Joe and Ann Weiss are two Americans who used to spend much of their time in New Zealand, as they liked the country and its values. I wrote this letter to them after it appeared that they viewed the UK National Health Service as an example of "Socialism".
From: Don Young
To: joe and ann weiss
Sent: Saturday, August 15, 2009 5:56 PM
Subject: Socialism, the end of the world and the NHS

Dear Anne and Joe

It takes a lot to get us Brits roused, but the torrent of bigotry, ignorance and sheer malice that is issuing from certain orifices of the US right wing about the UK National Health Service is getting many of us very riled. The NHS is a treasured institution that not even Margaret Thatcher dared to lay a hand on. More than 90% of the population value it very highly and some 93% of people in receipt of its services describe their quality as very good. The detractors are a small fringe of right wingers and of course, those who have been "recruited" by the private healthcare industry. Trouble is, these freaks are getting all the airtime on the US media - people like virtually unknown right-winger Daniel Hannan, who has been disowned by his party leader.)

The idea that bureaucrats, "The Government" or some kind of faceless committee sits in judgment of who shall receive what is the first piece of misleading rubbish. Clinical judgments in the NHS are made by doctors, not bureaucrats or finance people. There are some sensible overall policy bodies like the National Institute for Clinical Excellence, an independent non-government institution, that researches the efficacy and cost-effectiveness of drugs and makes policy recommendations to the NHS management. This is an obviously sensible approach, as resources are not infinite. They have recommended that some drugs are not sensible to be on general release because the relationships between efficacy and cost make them less useful than others. But this is not some socialist politburo, it is an organisation run by medical people.

Overall, the situation in Britain is as follows:

The NHS is funded by taxation. It provides a national health service, free at the point of delivery to all. Health includes campaiging for healthier lifestyles and preventative medicine - for example, everybody over 60 who wishes can have a free 'flu jab annually. Also, all medicines are free for over-60's. The NHS has run an enormously effective anti-smoking campaign consisting of a large and informative publicity campaign and clinics and medication for those who opted to stop smoking and is campaigning to do something about increasing alcoholism. The estimated impact runs into hundreds of millions of £s savings over the next twenty years or so.
The pattern of health provision is common across the UK - local GP surgeries which provides comprehensive cover in daytime hours. There is also an emergency local doctor service out of normal hours and a telephone service called NHS Direct manned by qualified staff which can be accessed 24/7. Our local health centre in the next village 2 miles away has 5 doctors, 3 nurses and a pharmacist on permanant staff + visiting specialist nurses. We live in a rural area, so the number of people per doctor is quite small. This means that we can talk to a doctor on the same day we call, and nurses within two days or less notice. For emergencies, you just go in or they will call.at your house. The local hospital, some 20 minutes away, provides A&E services, plus the full range of medical and surgical disciplines. When I had a heart attack at home in 1999, the GP was there in 5 minutes and the ambulance in half an hour, so within less than an hour of starting the attack I was in the cardiac ward connected to a large array of machines and injected with clotbuster, anti-sick drug, diamorphine, the lot. I am needless to say more than a little grateful and the cardiac nurses were attractive and intelligent. Almost worth having a heart attack for!
A feature of the UK system is that medical consultants can spend up to one third of their time in private practice. This means that people with private insurance (often provided by companies) or who are able to pay can opt to have certain procedures done by the same doctor privately. NB, this also means that the best doctors work in the NHS and also do private practice, thus keeping up to date with the best knowledge. Senior medical people we know all believe that doctors who do not practice in the NHS are not up to standard and tend to be charlatans.
There are private hospitals, which are fine for more minor elective surgery, especially as most of the surgeons are NHS doing their private stuff. But nobody in their right mind would choose a private hospital for major surgery, they are not well-equipped with intensive care facilities. So I had an angio-plasty done, because I would have had to wait 4 weeks for the NHS but wanted it done in 2 weeks for personal, not survival reasons.
The procedure was carried out by an NHS doctor doing his private stint - had anything gone seriously wrong, I would have been transferred immediately into an NHS heart theatre in the same hospital. Only the seriously eccentric use all-private doctors in Harley Street, many of them are better at bedside manner than medicine and some are quacks. But you can see that the wealthy can purchase certain priveleges in Britain, but it is to do with choosing when to be treated and nothing to do with quality of treatment (apart from the supply of expensive wine in the private wards and a sherry with your doctor after the consultation is over!).

Now, this generally positive picture is marred by the fact that being a large organisation, the NHS demonstrates some of the features of any large enterprise (like General Motors, for example). This means that standards are not uniform across the whole UK, that some doctors are better than others, that some hospitals leave a lot to be desired. But there are independent league tables published that enable those who are mindful to choose the hospital they will attend and nationally published information puts great pressure on the recalcitrants to improve. Patients also have the right to ask for and get a change of doctor. I can say from personal knowledge that the standards of medical training in the UK are top-class. I have several doctor friends, a cousin who is a senior consultant and a son who has taken 12 years of bloody hard work doing his medical degree + professional follow-up training (5 exams so far) + 5 years of working in various medical disciplines in hospitals + 3 years GP training + working in India and Ireland in order to become a GP. His training has been rigorous and really hard work.

So the idea that the UK system is some kind of communist 3'rd world service is sheer bigoted crap perpetrated by people with some kind of political mania or possible financial interest! (there! I'm annoyed!) It is a hugely beneficial system that has helped the UK to a position where its public health record is far better than the US. Now, this is not to say that the rich and insured cannot get world class treatment in the US, but I think I would characterise your system as a private sickness system providing the best of treatment for the relatively wealthy, not a public health service. And it is this difference in basic philosophy that maybe is the root of many misunderstandings. In all European countries, public health is accepted as a national and public priority, not a private privelege.

It is true that the NHS is under threat at the moment. Obviously a healthier population living longer is creating huge financial pressures (but this is actually a price of success). The greatest threat comes from the political right wing and the remorseless pressures coming from the private healthcare and pharma industries, which are using the media and some politicians to insidiously worm their way into the public health system.

Now, for some statistics and facts. Most of these come from the World Health Organisation (not the NHS!!) Sweden has the most elaborate public health system, US the least developed:

COMPARATIVE STATISTICS FOR 4 COUNTRIES, 2016

US
UK
NZ
Sweden
M
F
M
F
M
F
M
F
Average life expectancy
76
81
79
83
80
84
81
84
Healthy life expectancy at birth (2003)
67
71
69
72
69
72
72
75
Probability of dying under 5 years per 1000 live births
9
6
6
4
Probability of dying between 15 and 60 years per 1000
137
80
98
61
91
59
78
49
Total expenditure per head 2006 in dollars
$6714
$2784
$2447
$3119
% health spend of GDP
15.3%
8.4%
9.4%
8.9%
Acute care hospital beds per 1000 population
2.8
3.6
Average length of stay acute care
5.6 days
3.6 days

You can make your own mind up about the meaning of these stats, but value for money and overall public health record come to mind! I think it was in 2006 that the American Medical Association caused a degree of controversy by revealing that the UK public health record was comparatively pretty good. I wonder where all the good 'ol neo-cons and others of that ilk get their information from?