MIRACLE ON LIMERICK CLOSE. A Modern Fable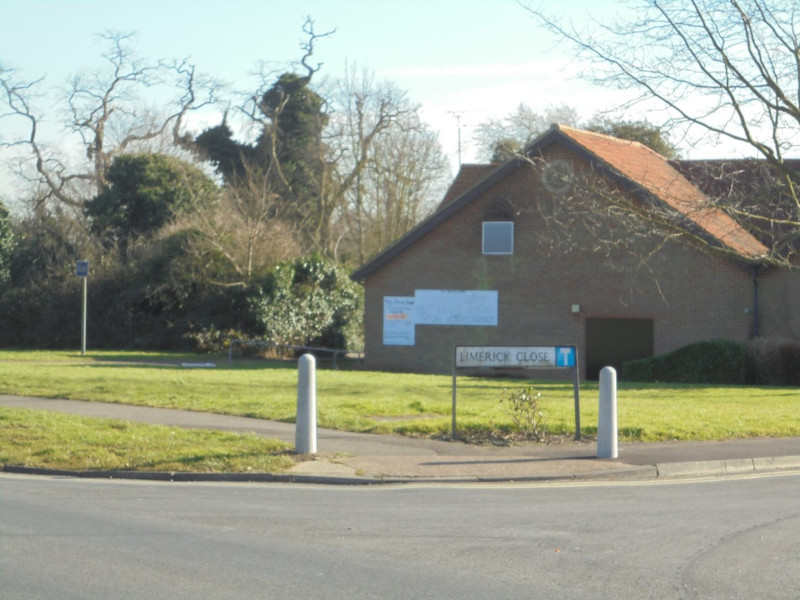 Turn into Limerick Close on the edge of Whitehouse Estate, Ipswich, and you are faced by an undistinguished-looking brick building. Then the eye is caught by three Minibuses. They appear to belong to an interesting organisation – maybe run by a large company…?? Approaching the front door of the building, confusion begins to grow – the organisation seems to have at least two names and logos; "Wots Up", the "Meeting Place Community Centre" and maybe some more. Interesting!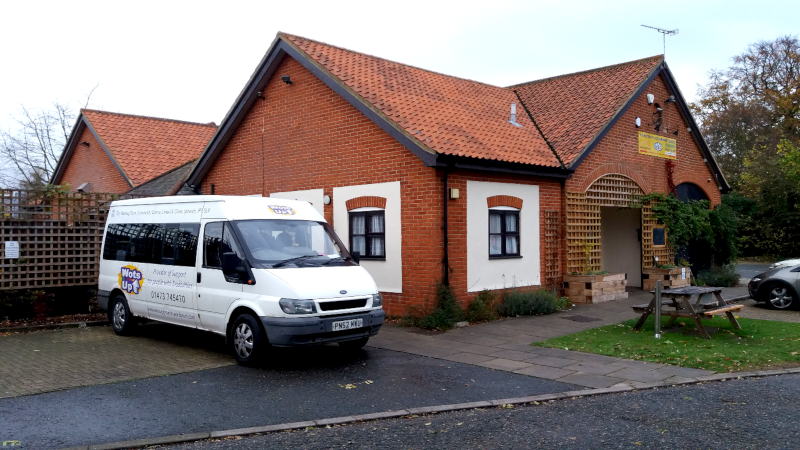 Entering the building, one is impressed by the décor, shiny and ebullient with many colours and floral motifs, with uplifting messages on the walls.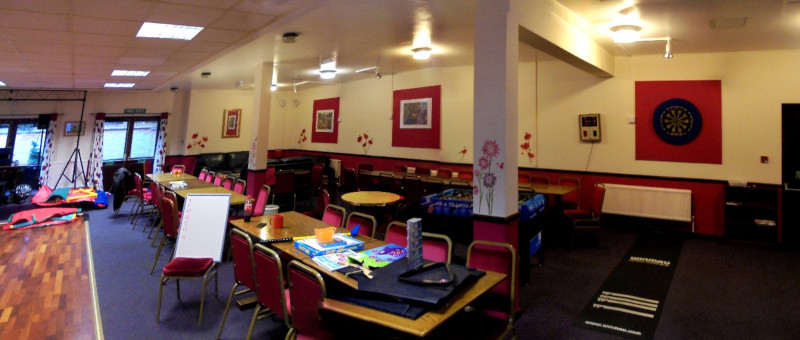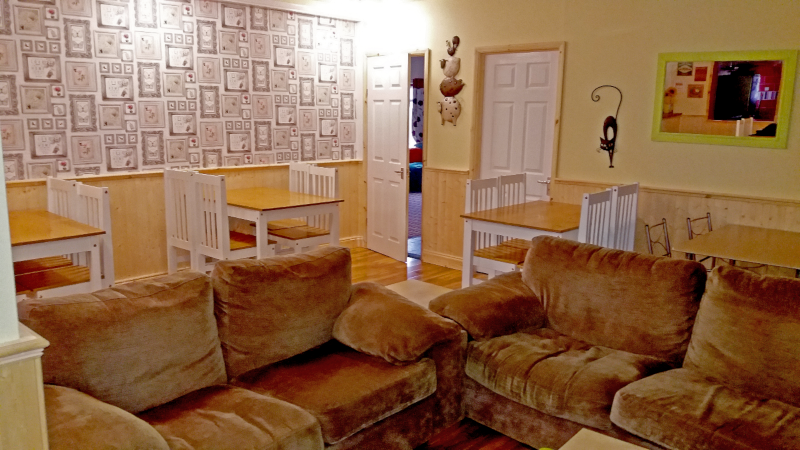 Pause for a second, and look in the door labelled "Disabled toilet". It's a sort of palace!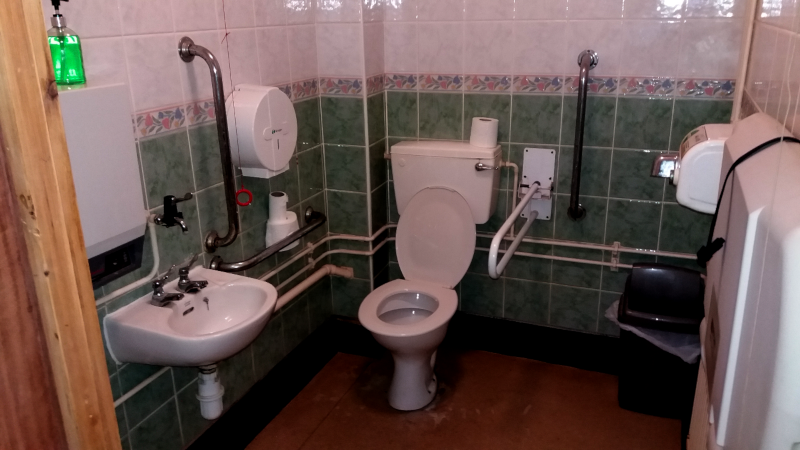 The decor is again colourful and shiny; the sort of place any disabled person would like to spend time. The same applies to the Men's and Women's toilets.
Then: enter through double doors to the main room and, depending on the time of day, there are people playing games, engaging in competitive activities such as skittles, making lots of noise.
At other times of day, there are groups of adults – some are doing needlework round a large table, others are practising fitness activities – then there are mothers and children, smaller groups in anterooms. Then a minibus arrives and out pour people who have obviously had a day out. Closer inspection of the people will reveal that many of them seem to have physical and mental difficulties. Somewhere in the centre of the melee is a burly woman who is obviously in control of everything – "control" is exercised by a cheerful and noisy commentary, punctuated by the odd expletive.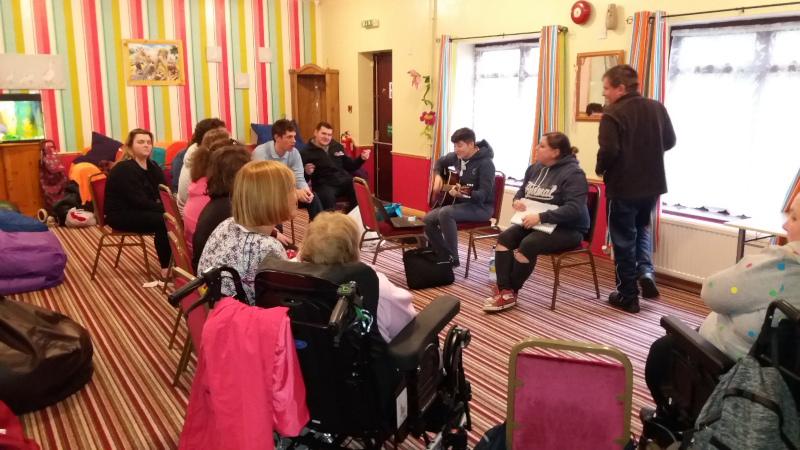 Further inspection of the building reveals a huge open space, tables, dartboard and clusters of seating. This room is truly impressive – the décor is cheerful and shiny – over all the walls are floral decorations – this room opens out into a small garden with seating and a pond. On the other side of the large room is another room which can be isolated from the main one, and seems to be a sensory space for people to touch and feel soft or shiny objects.
Back through the double doors and there is the kitchen – a model of cleanliness, with facilities for making all kinds of food and drinks.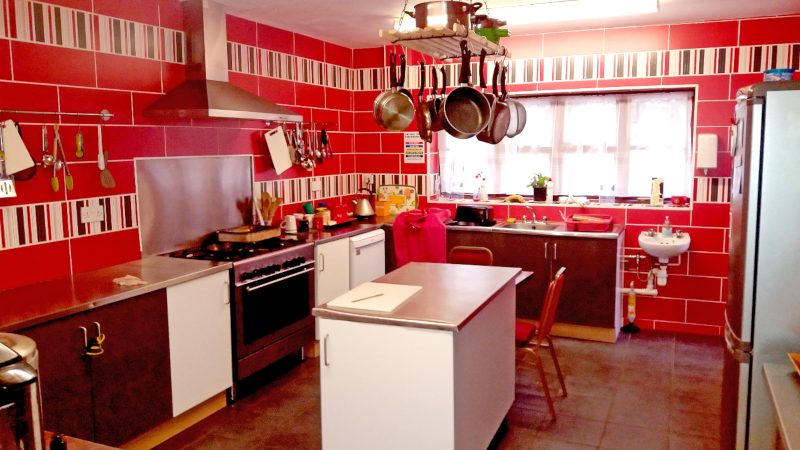 So: What's All That About?
Let us cast our minds back four or five years. The same building stands in the same place, but it's boarded up, obviously derelict. It also appears to be up for Lease.
A council employee escorts interested people around. There is debris on the floor, the previous inhabitants have left the shabby remains of a bar, there are cooking vessels with the rotting remains of some kind of foodstuff – and the roof obviously leaks. The general aura is of depression and decay. Who would want this wreck and for what purpose?
Further enquiries reveal that the building had once been a local Community Centre/ Members Club which had fallen on hard times and finally had crashed when some members of the club committee embezzled the funds. The club and the building had established a horrible reputation locally as a result of these experiences.
Step Forward Mags Fortune!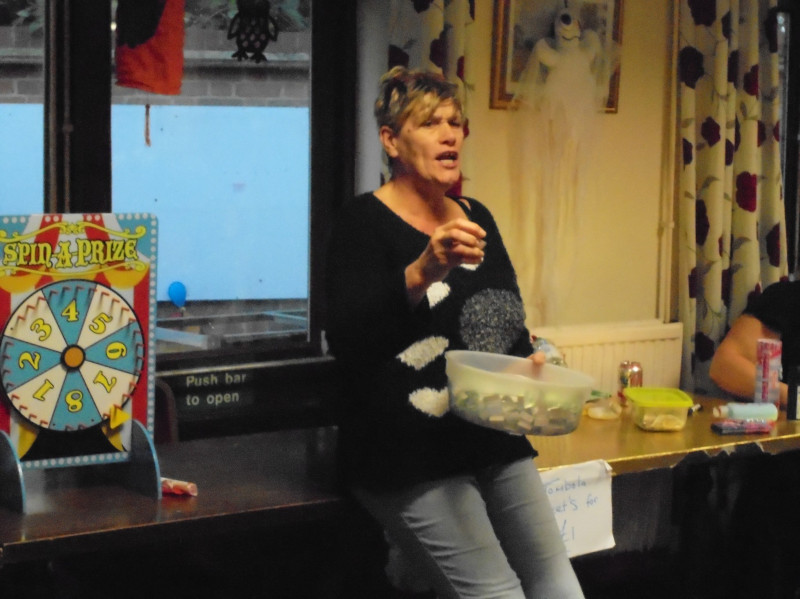 "I had my fill of working for large organisations that seemed to be set up to prevent their employees doing anything useful! I had worked in Old Peoples' homes, Care Homes of all kinds, I had organised children's Play groups, worked for large companies that were supposed to care for old people, people with learning difficulties and children. I loved working with needy people, it gave me a huge kick to see them respond to care but in particular stimulation –and it worked!"

"So, in between having children myself I did a little care work in a local community centre, I worked as a shelf stacker? In Asda and did bits and pieces. Was I satisfied with my life? Not bloody likely, but I was too busy at the time to really focus on what I really wanted".

Then, I wrecked my knee and was forcibly inactive for many weeks. I had time to think about life and it came to me in a flash……

"I wanted to have my own "Thing" (enterprise), to care for people who had learning and other difficulties and not be beholden to corporate bureaucrats and the like. "

But I went to work at Castle Hill community centre in North Ipswich running their café and there I met a man who gave huge encouragement to do my own thing. Then….My ex-partner's mother rang one day and said there was a building up for lease that sounded just what I might want. So, several things came together in one flash – my dream, encouragement and the Building" I thought you can't go through life without doing want you passionately want THIS IS IT!!

"Then I was encouraged by somebody to attend a business start-up programme at the Eastern Enterprise Hub in Ipswich. After a couple of sessions I thought this was not for me.

But I spoke with someone on the programme and he arranged for me to meet with a colleague. So, the next piece of good luck. They suggested setting up a Community Interest Company – a better idea than sole trading and a good platform for growth - and they did the paperwork, not my greatest strength!!

So I had a Company, maybe a headquarters of my own in Limerick Close on the outskirts of Whitehouse estate, Ipswich. So, by chance I bumped into my ex-partner, Bryn Bantoft, who was having a difficult time with his health. We asked the council to let us in to the ex- members' club. A quick inspection revealed that as we had been told the building was in a SHIT (shocking) state. There were puddles on the floor as the roof leaked. Someone had bodged the repair, which would need to be completely redone. But, now I really knew what I wanted, there was no going back, I wanted this building! The council said I needed a partnership – NO WAY! I knew what I wanted to do. So, after a lot of haggling, I was sole leaseholder.
Mags and Bryn get to work
Bryn and I set to work, I had £2000.00 saved up from Castle Hill. This was spent on a plumber and an electrician, the rest we did ourselves, including the roof (lucky nobody told the council, who would have insisted on scaffolding) We just fixed it !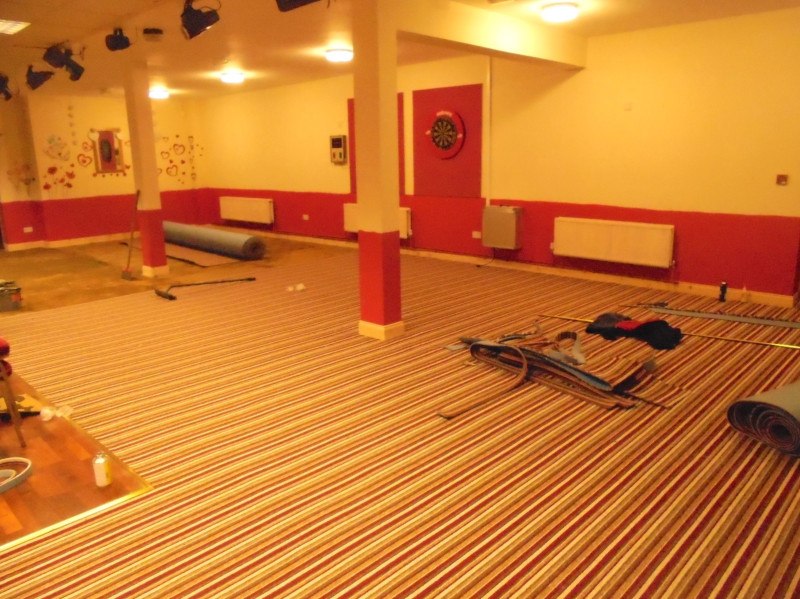 As we got the building fixed… Said Bryn when asked how they did it: "She says what she wants and I do it!!
"I brought my first carer and a couple of people with learning difficulties and we started work. I had very clear ideas from past experience. I want my "people" to be active, to do stimulating activities, to have adventures and to work together. This is not really the way with some care organisations who aim to control and limit exposure.
So, I built a small cadre of "people" with their Carers and parents. As the building improved, a church group decided to meet there on Sundays. This was good, but even better was the fact that one of them was a bookkeeper!!
Then: As the building progressed, more carers and their people came by direct referral – but in parallel, help seemed to pop up when needed…
How did that work?
From an external perspective: Mags knows with almost brutal clarity what she wants: "To build an edifice of Care which provides the most stimulating environment for people with learning and some physical difficulties". All the rest is on the periphery.
So here are some peripheral things:
Accounting and bookkeeping
Building works (not décor, Mags is very clear about how she wants the building to look)
Legal and business advice
Relations with official bodies
Publicity and image
Building a website
What seems magic is how most of these "peripheral" aspects of running her enterprise seem to fit in place. Don't believe it? For example:
Building a website
Here is how that happened. Mags and her people are in that day, so it's noisy and a scene of great activity. Mags as usual is all about. Man, who turns out to be called Leigh Horton, comes to the door, introduces himself, asks to be shown around, after a bit he asks if she has a website. Then out of the blue offers to build a website for free!
Along the way, Mags has received free support and advice from, amongst others:
Leigh Horton, Website and photographs
Gerry Field, senior lawyer, pro bono help on lease
Paul Edwards, surveyor: advice on lease costs
Don Young, ex businessman and chair of an Ipswich Social Enterprise – general advice and small pots of funding when necessary
Who is Mags, really??
Mags is as she appears; burly, but not fat, exuding confidence and (generally) noisy good humour. If roused, her language is capable of making "PC" people blench. Such people tend to be bureaucratic, disapproving or obtuse. But Mags comes into her own when working with her "People" – she is loving in a noisy kind of way, she maintains order and good behaviour by very occasionally calling out transgressors.
It is quite clear to all: visitors, carers, council employees, helpers and supporters that the "Meeting Place" is Home for her and her People. It is also more than clear that she is a peerless carer for people with physical and learning difficulties.
Nearly everyone who has come in contact with Wots Up and the Meeting Place has been massively impressed by the Mags project and almost unbelieving about how it has grown.
Truly a Modern Miracle!
Postscript
This kind of community-based activity, founded and run by people with passion who allow nothing or anybody to get in the way of achieving their visions is maybe signalling the future. Mags and "Wots Up" not only have a community centre for her "people", which is used for many other community activities, she and her helpers also have live-in caravans and a vegetable plot for growing healthy foods. All this started with one person's vision, £2000, a posse of helpers, some support from the local council, and free professional advice from accountants, lawyers and website designers!