Community Support during Co19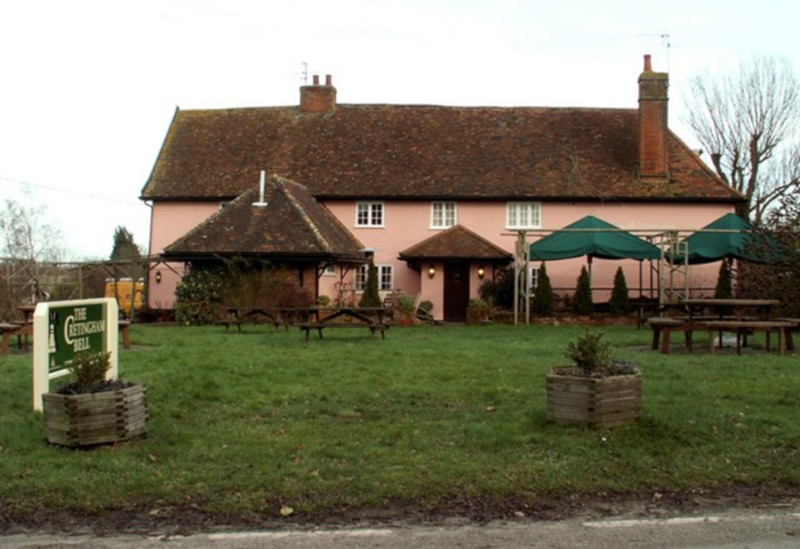 The Cretingham Bell – just opposite our House!
Charlotte and Don Young live in a tiny village in rural Suffolk in the East of England. The population of the village amounts to some 180 people, some born locally, but more from other parts of the world (the US for example). The social mix is quite variable, as are the interests and occupations of the villagers. About half work locally, in the nearby golf course, pub and some in towns around. Nearly all have some kind of occupation, Working for a charity, as supporters and directors, helping with horse riding for the disabled, tree cutting, cider making, beer brewing – the list is huge and varied. A major feature is the 16th century public house, which has restaurants and an excellent stock of wines and spirits. The draught beers are from a local brewery and there is a range of "guest" beers, usually one or two at a time. There is of course a wide range of canned and bottled beer too.
There are several social groupings which meet at peoples' houses on a regular basis. There is a film night (drink and food followed much later by a film chosen by a rota of locals), regular gatherings (drink, cheese etc). It seems for most beer and wine are a regular theme! Then there are gatherings in the pub. One of the most regular is "Compost Corner" apparently so named because most of the members are elderly (and decaying, according to an unkind and inaccurate observer). Another group is the "Big Houses" so named by Compost Corner because they are very middle class and live in some large old houses scattered around the village. It is possible to go on and on – the diversity of people and their interests is vast for a small village. For example, Gilbert Sills makes classic motorcycles in a barn, there are three furniture makers, Larry Bosman is writing a huge tome on the history of the Lute, a stringed instrument with a history of hundreds of years. Sha Sha Toptani (alas died recently) was a grand-daughter of Ex-King Zog of Albania (really)!
When the Coronavirus struck Britain, it was decided to set up a WhatsApp group. A local computer expert did the work. Many others did errands for older neighbours, getting food from local shops and supermarkets.
In our case, we decided to make soup for the local "singles" and invite people to drinks and food outside or spaced out in what had been the old school room.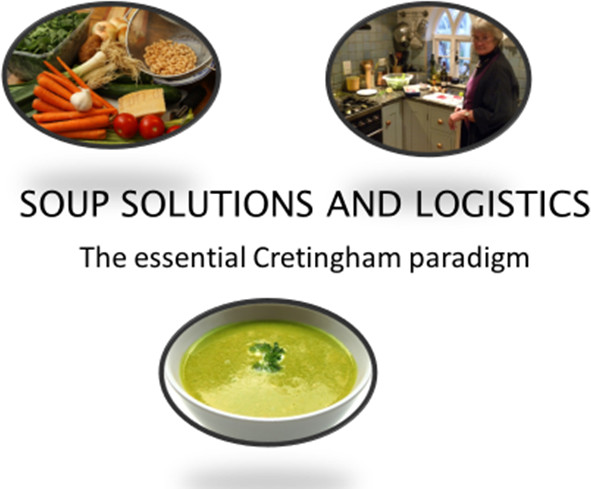 Here is our Logo (We apologise for stealing it from transport trucks).