Fast Fashion, Consumerism, and Global Warming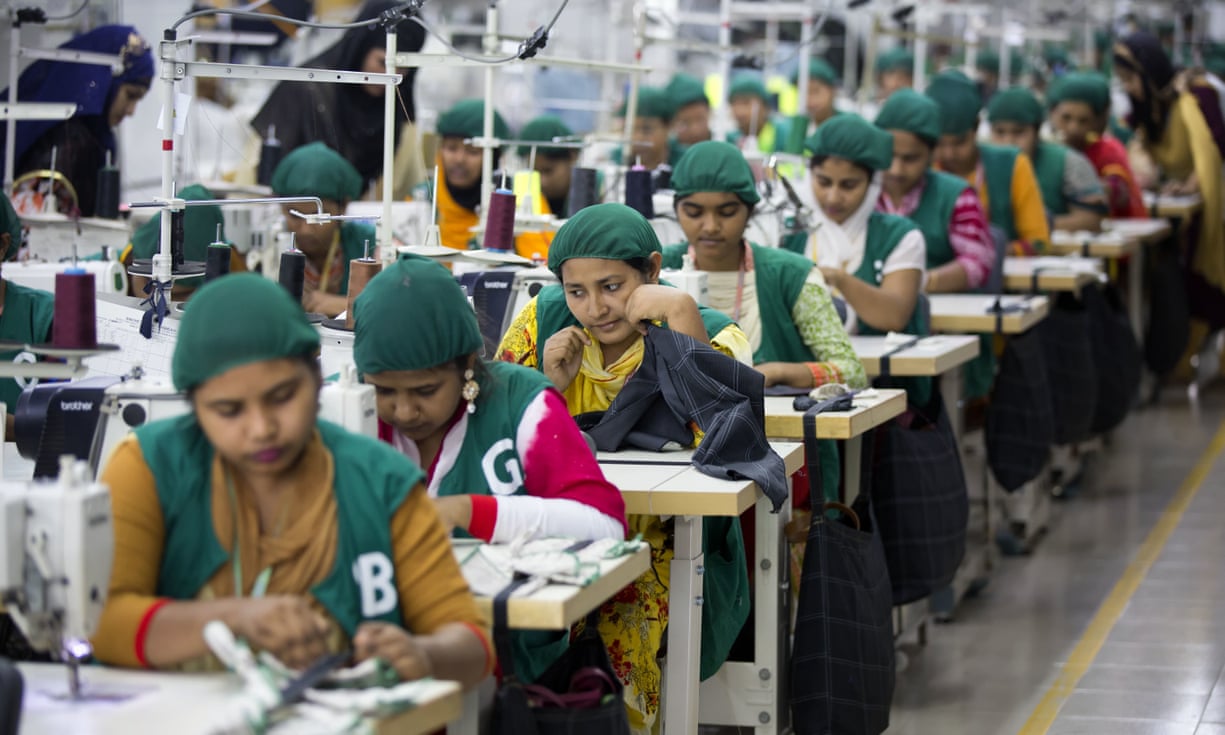 So-called fast fashion has ushered throwaway culture into the clothing business, with items so cheap they have become single-use purchases.
Last week, the young-fashion brand Boohoo had 486 dresses available online for less than £5. Many – like a black bandeau jersey bodycon number – were just £3.75, meaning the delivery charge cost more than the contents of the package. Rival Asos was offering 257 dresses and 2,141 different tops for less than £10.
Now, however, some fashion experts believe the party could be coming to an end for such disposable clothing and a backlash could be brewing, just as it has against takeaway coffee cups, plastic packaging and meat. Overall, the fashion industry as a whole is contributing more to climate change than the aeronautical and shipping industries combined. If trends continue, the industry could account for a quarter of the world's carbon budget by 2050.
In the past 15 years, global clothing production has doubled to meet demand. But it has left a trail of cast-offs, with more than half of fast fashion items thrown away in less than a year, according to the consultants McKinsey.
Disposing of clothing and household textiles costs the UK alone about £82m a year, according to a 2014 study by the government-backed recycling charity Wrap.
Dana Thomas, a veteran journalist who has written for the Washington Post, the New York Times, and the Wall Street Journal, among others, doesn't mince statistics in the early chapters of Fashionopolis: The Prices of Fast Fashion and the Future of Clothes. "Fast fashion" — which is to say cheap, disposable clothing, made indiscriminately, imprudently, and often without consideration for environmental and labor conditions by companies like Zara, H&M, Forever 21, Nasty Gal, and Fashion Nova — is a disease, and both the planet and its people are paying the price. Zara alone churns out roughly 840 million garments every year for its 6,000 stores worldwide, often at sub-poverty wages for its workers. Once-thriving rivers in China, India, Bangladesh, wrecked by wastewater effluent from factories, have transformed into biologically dead zones replete with cancer-causing chemicals. Tiny plastic microfibers, shed by synthetic garments during laundry, are inundating our water supply and food chain. But how did we wind up here? Through her reporting, Thomas pulls together disparate geopolitical and anthropological threads to compose a gripping narrative of the complex world we live in, and how it's changed the way we dress through the decades.
---
Question:
"Let's talk about the name of your book, Fashionopolis. You wrote that it stems from both "Cottonopolis" in Manchester — the world's first major manufacturing center during the first Industrial Revolution — and Fritz Lang's dystopian film Metropolis. Both paint pretty sobering pictures. Is today's fashion system equally an indictment of capitalism and greed writ large?"
Answer:
"My husband, who is in finance, read the book, and he teased me and said, "You know, this book is a little bit Marxist." And I don't know if I think of myself as a Marxist, but I do think the book reflects what's going on right now, which is the unbridled capitalism that we've had for the past 20 years with globalization and the digital age. That you can become the second-richest person in the world, like Amancio Ortega, who owns Inditex and thus Zara, by selling gobs of throwaway clothes and paying pennies to people to make them — that, to me, is the ultimate snapshot of wealth disparity that everyone's complaining about. If a piece of clothing costs you $19.99, that means the person who made it was paid 19 cents."
A little black dress from the young-fashion brand Boohoo is available for just £3.75.
In 2015, greenhouse gas emissions from textiles production globally totalled 1.2 billion tonnes of CO2 equivalent, according to a report by the industry-led Circular Fibres Initiative. This is more than the emissions of all international flights and maritime shipping combined.
News from the London School of Economics

With thrifting, upcycling and sustainable clothing choices becoming more popular, is disposable fashion becoming old hat? We ask the LSE community.

"There's definitely a pressure not to be seen wearing the same outfit twice, especially on social media. You can get wrapped up in the idea that you need a new outfit for every event, and cheap online shops make this so easy," says 20-year-old undergraduate Saach Sivakumar.

Saach is the President of LSE's A new lease of life

These workshops - which the group hope to run fortnightly with LSE students - are part of the society's latest project, Vita Nova (or new life in Latin), designed to tackle clothes waste.

Project supervisor, 22-year-old Management student Jun-e Chew, explains how the idea for the project came to him while researching the waste produced by the fashion industry. According to studies, around 350,000 tonnes of clothes are sent to landfill every year in the UK with a garment being worn on average just seven times before it's thrown out.

"Fast fashion is something we've all played a part in at some point, but my generation are starting to realise the impact the industry is having on the environment and want to take control of the situation and our futures," he says. Saach agrees, highlighting how the prominence of climate change in the news agenda and the influential work of figures such as Greta Thunberg are starting to have an impact.

Make do and mend

It seems Jun-e and Saach aren't alone, a new study shows young people are increasingly making more sustainable fashion choices. In the last year, over half (52%) of those aged 25-34 bought second-hand clothes and half (50%) have repaired damaged or worn-out clothes.

These workshops - which the group hope to run fortnightly with LSE students - are part of the society's latest project, Vita Nova (or new life in Latin), designed to tackle clothes waste.

Blue planet moment

However, while concern around fast fashion is brewing, and it's possible disposable clothes could soon face the same backlash as throwaway plastics, it's still an incredibly popular industry. With the profits of retailers like Primark and Bohoo - where you can snap up a dress for less than £5 – booming, fast fashion is yet to have its 'Blue Planet moment'.

Professor Ben Voyer, who researches consumer behaviour, believes there are several reasons why fast fashion is still thriving, despite increased awareness about its impact.

"First, fast fashion offers convenience and tangible benefits to consumers: ease of buying and being on trend. Second, there is always a gap between consumers' attitudes and their behaviours. Consumers often claim they care strongly about certain topics – and they often do – but it doesn't necessarily mean they will act upon these," he says.

LSE Atlantic Fellow for Social and Economic Equity and sustainability expert Madhumitha Ardhanari agrees. "For every person who is looking into ethical

It's complicated

While Madhumitha believes we can all make changes to our shopping habits to help reduce waste (for example, she regularly swaps clothes and only buys second-hand), she argues change won't happen until there are regulations in place.

"Governments need to regulate businesses better. And businesses need to orient revenue models towards slow fashion (ie: producing fewer, better clothes) and business models towards repair and repurposing rather than focusing on relentless production. Without these key shifts at the production end, it's going to be hard to truly end fast fashion."

It seems that, while we might be starting to question our relationship with fast fashion, we're not at the breakup stage just yet.