Landmark U.N. report delivers stark warning on climate change, says it's 'code red for humanity'
"One of the key messages that comes out very strongly from this report is that we are already seeing the consequences of 1°C of global warming through more extreme weather, rising sea levels and diminishing Arctic sea ice, among other changes," said Panmao Zhai, Co-Chair of IPCC Working Group I at the High-level Dialogue on Climate Change organised by the IPCC, the United Nations Development Programme (UNDP)
2021 A Cascade of Climate Change Disasters
When are we going to take Climate Change seriously??
Climate scientists have long warned of severe impacts on the near horizon, and the 21st century has seen more than a few natural disasters made worse or more likely by global warming.
But a cascade of deadly extreme weather this summer could make 2021 the year when climate predictions became a reality that can no longer be ignored.
Temperature rise in Greenland causes ice sheets to melt at twice the average rate
There was enough of melted water "to cover Florida with two inches (five cm) of water".
California's raging wildfires
Triggered by an alarming drought, the wildfire season is just starting in the American West where thousands of firefighters are already dealing with 80 large blazes.By the beginning of the week the fires had ravaged more than 4,700 square kilometres (1,800 square miles) of vegetation.
The most spectacular blaze is the "Bootleg Fire" in Oregon, which in the space of two weeks has burned the equivalent of the city of Los Angeles in vegetation and forests.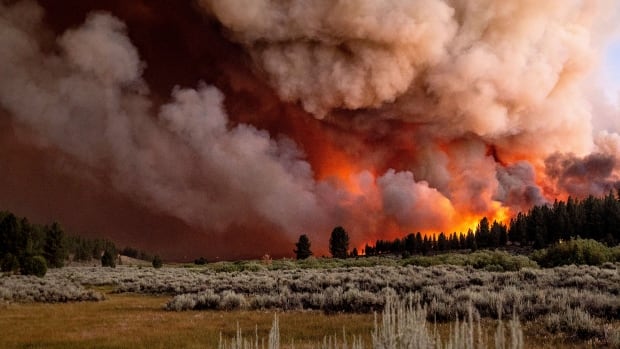 Massive forest fire in Greece still burning for 7th day
ATHENS, Greece (AP) — Firefighters and residents battled a massive forest fire on Greece's second largest island for a seventh day Monday, fighting to save what they can from flames that have decimated vast tracts of pristine forest, destroyed homes and businesses and sent thousands fleeing.
The smoke and ash from the fire on Evia, a rugged island of forests and coves almost touching the Greek mainland, blocked out the sun, turning the sky orange as the blaze rampaged across the northern part of the island.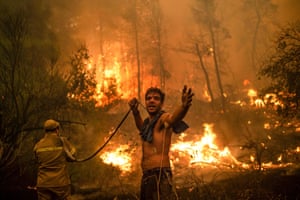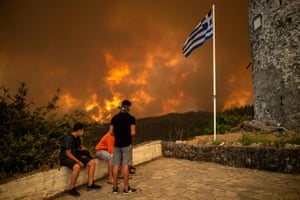 Evia's fire is the most severe of dozens that have broken out across Greece in the past week, after the country was baked by its worst heat wave in three decades which sent temperatures soaring to 45 degrees Celsius (113 Fahrenheit) for days. The heat, coming amid what has already been a particularly hot summer, has turned Greece's forests, including large areas of easily flammable pine trees, into bone-dry tinderboxes.
Deluge in China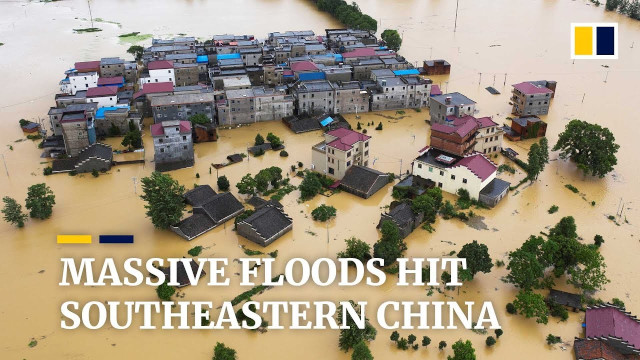 Flooding also hit China this month, with cars strewn across the central city of Zhengzhou on Thursday as shocked residents picked through the debris of a historic deluge that has claimed at least 33 lives.
An unprecedented downpour dumped a year's worth of rain in just three days on the city, instantly overwhelming drains and sending torrents of muddy water through streets, road tunnels and the subway system.
Canada's heat dome.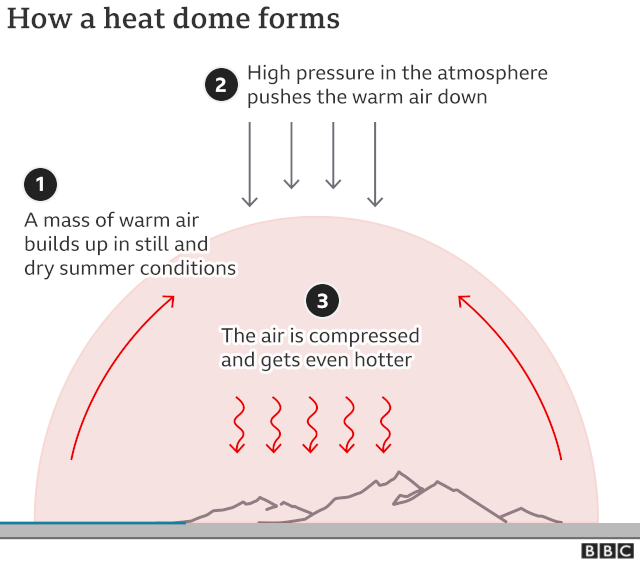 In late June, western Canada was caught under a "heat dome", a phenomenon causing scorching temperatures when hot air is trapped by high pressure fronts, and heats up even more as it is pushed back down.
The country broke its record high temperature several times, finally capping at 49.6 degrees Celsius (121 degrees Fahrenheit) in the village of Lytton on June 30.The US states of Washington and Oregon were also affected. The exact human toll is not yet known but amounts to at least several hundred deaths.
A study by a group of leading climate scientists found that the weather conditions would have been "virtually impossible" without human-caused climate change.
Devastating floods in Germany and Belgium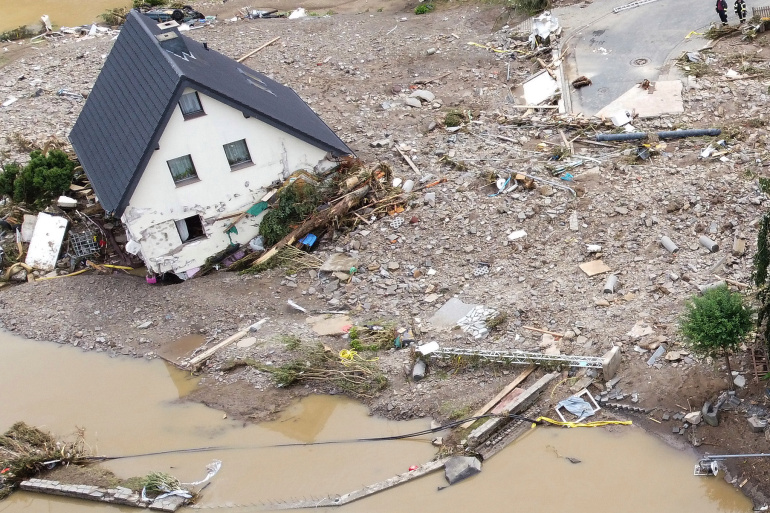 After Deadly Floods, a German Village Rethinks Its Relationship to Nature
A long history of bad land use decisions exacerbated the death toll and damage of Germany's recent megaflood. Some say now is the time to rebuild differently.
Major Atlantic Current May Be On the Verge Of Collapse, Scientists Warn
One of the world's most important ocean currents is showing some major signs of failure, according to a study published Thursday, prompting concerns there could be significant climate shifts across the world in what is likely the result of human-caused global warming.
Earth's Gulf Stream System at its weakest in over a millennium : University College London Study
25 February 2021
A new study involving researchers from UCL has found consistent evidence of a decline in ocean currents, with the Gulf Stream System, also known as the Atlantic Meridional Overturning Circulation (AMOC), at its weakest in over 1,000 years.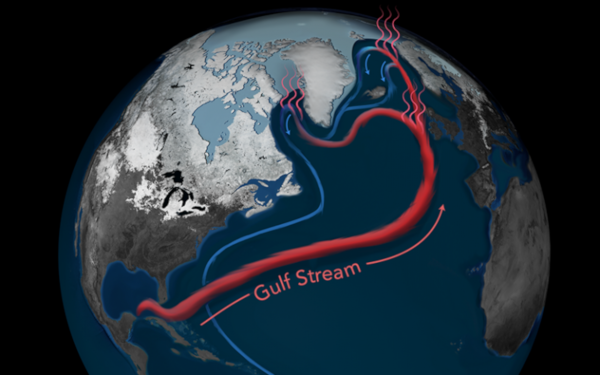 Published today in Nature Geoscience, the team found that the Gulf Stream's slowdown in the 20th century is unprecedented and is likely linked to human-induced climate change.