FROM PANDEMIC TO SAVING THE PLANET……
+ OR - ?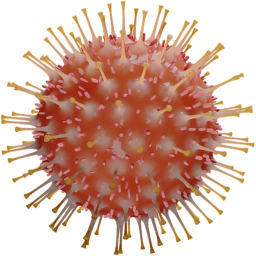 CORONAVIRUS PLUSES AND MINUSES
The world has been rocked by the sudden arrival of the Coronavirus, which appears to have originated in a live animal market in China, where animals were sold for human consumption. The original epicentre seems to have been in Wuhan in China.

In the public mind, the origin of coronavirus seems well fixed: in late 2019 someone at the now world-famous Huanan seafood market in Wuhan was infected with a virus from an animal. Scientists say it is highly likely that the virus came from bats but first passed through an intermediary animal in the same way that another coronavirus – the 2002 Sars outbreak – moved from horseshoe bats to cat-like civets before infecting humans.

Buying, selling, and slaughtering wild animals for food is one way an animal-borne disease may infect people. Viruses can spread more easily if animals in markets are sick or kept in dirty, cramped conditions, such as in stacked cages. When animals are under duress, viral pathogens can intermingle, swap bits of their genetic code, and perhaps mutate in ways that make them more transmissible between species. In the case of respiratory diseases, such as COVID-19, the virus can jump to food handlers or customers through exposure to an animal's bodily fluids.

From National Geographic

What does appear to be very dubious is the assertion from the US Administration that the pandemic was deliberately started in a Chinese Laboratory. This story seems as ridiculous as the Chinese assertion that it was carried to China by US servicemen.

The First Negative Effect: If a terrible global pandemic becomes a sort of political football in the diplomatic and trade war between the United States and the Peoples Republic of China, the whole world will suffer. The disappearance of global co-operation caused by this and the withdrawal of the Trump administration from vital international bodies diminishes the science vital to understand this Pandemic and also the crisis of Climate Change that lurks behind the public attention to Cov19. All of this is too serious to become tangled in US domestic politics.

Terrible and Tragic Effects: So, given the tragic widespread consequences of Cov19 there is a widespread and entirely understandable view that the pandemic, and the public health consequences are entirely disastrous. And so they are to the hundreds of thousands of people who have died and their relatives and friends. Also, the massive effects on employment are also terrible for those without work The whole world, with a few exceptions, has taken the Covid19 pandemic by locking down the community, closing businesses, putting huge numbers of people out of work, and placing massive pressures on health systems, hospitals and care homes. The poor and excluded have suffered far worse than their fellow citizens in grossly unequal societies.

The effects on many people who have been even more isolated during the lockdown seem to have been terrible in terms of depression and anxiety – exacerbating already existing conditions.

All of this must come under the heading of "BAD".

But if we step back a little and take a wider and longer view, the horizon begins to clear a little. The impact of the Virus on society and the economy may not be all bad.
So here is a sort of Balance Sheet:
Possible Positive Impacts
Massive temporary decreases in pollution. As the use of motor vehicles and the consumption of fossil fuels declines, all of a sudden, people in many cities are able to see more than the end of the block and even see the horizon with many colours
Wildlife enjoys a sort of "holiday" – birdsong becomes much more evident, and in many parts of the world, threatened species experience some respite
Public Service is revealed to have a priceless value. Communities in many parts of the world have come together to help each other and especially to support weaker members. The value to society of volunteering, Social Enterprise, Charity work, especially local and community charities has come to the fore in the public consciousness.
"Experts" and people of knowledge begin to be valued over some politicians who peddle grossly biased perspectives and those who spread misinformation through the web and social media. It is possible that significant numbers of people will have learned to listen to the facts rather than political dogma.
In many places, communities have come together to provide informal services, and particularly to support more dependent members. It is unlikely that the habits of community cohesion learned through the pandemic will completely fade.
Broadcasting and other forms of public service media seem to have become more acceptable. This has certainly happened in the United Kingdom, where the BBC (British Broadcasting Corporation) which is viewed by many as a national treasure and disseminator of unbiased information, has become the "Go To" source of reliable and information untainted by the sort of political biases noticeable in many parts of the UK print media and glaringly in Fox News
Maybe the right wing, especially the UK Tory Party, will stop sneakily undermining it in favour of media owned by the Murdoch "empire", which, amongst other activities, owns the extreme right wing Fox "News".
In Britain, the Public health system, the National Health Service, has emerged covered in glory and with massive public support. As the right wing in UK politics has been attempting to undermine the public system in favour of private providers, the experience of premier Johnson who was seriously ill with Cov19, and now describes the NHS as "our NHS" might stop the privatisers for a bit.
Maybe some of the grosser excesses of the Free Market and consequent Consumerism may have been publicly exposed as grossly flawed. Certainly this is the case when the US is compared with countries such as Germany, Sweden, New Zealand.
Women Leaders have come to the fore - and comparison are beginning to be made between such as Angela Merkel and Trump and Bolsanaro
Perhaps more inclusive and supportive forms of leadership may follow from the exposure of the terrible flaws of self-obsessed macho figures such as Donald Trump, who seems to be believed by his "base", mainly centred in rural areas and old industrial towns (known as the "rust belt").Politicians have lost the trust of the people in many countries as a result of their failure to confront the truth and accept the consequences of their follies. So a more open, adult form of politics, often practised by women leaders may be one possible positive long term effect.
Ambiguous and Uncertain Effects
The Free Market, based on Neoliberal dogma, which became turbocharged in the early 1980's, took root most powerfully in the United States and United Kingdom. It was less wholeheartedly espoused in the Scandinavian countries, Germany, and South Korea. This meant that the fabric of government was not torn apart in those countries and central, regional and local government retained most of their power and energy.
It now is beginning to be revealed that the effects of Cov19 have been worse in the bastions of the Free Market, in particular America and Britain.. Central governments have been exposed as unable to respond, coordinate responses and forge coherent strategies to deal with the effects of the Virus. It also seems that the US has lost its leading positions in coping with this and future pandemics, as well as with global warming and climate change. It appears that more people in the United States are beginning to question whether that country's public health system is as good as its proponents assert – even to toy with the idea that the "Socialist" public health systems seen in many parts of Europe and the Far East may not provide better health security??
Maybe, just maybe, one of the effects of Cov19 will be to cause at least a significant portion of the electorates to be less flaccid in their acceptance of political ideas and dogmas based on competition and greed.
Air travel and the airline industries worldwide have taken a huge hit during the crisis, as international travel has been subjected to lockdown. Whilst it is to be expected that there will be a resurgence in business and leisure air travel, it is almost certain that some habits will change. There may be less tourist travel, and many people in business will have learned the virtues of virtual communication, rather than jumping on aircraft.
The same applies to work habits more generally. Since the lockdown, many people have taken to working from home – and found it a positive habit. So maybe there will be less pressure to "go to the office" without any real diminution of effectiveness and performance. In turn, this may have put downward pressures on City centre property prices.
Big Questions that will Shape the Post Pandemic World:
Will President Trump and Neo-liberalism survive In the United States? This question has serious importance that stretches way beyond the boundaries of America. Before the arrival of the Trump administration, The United States played a vital role in maintaining international collaboration. If the current administration continues for another term, the world is likely to become a more disorderly and dangerous place. Think particularly of Sino-American conflict support for right-wing regimes, Climate Change and international scientific co-operation. Think also of the relationships between Russia and the United States; and whether President Putin can continue to grow in international influence.
Will the European Union fragment? It has been severely challenged by the Pandemic and has struggled to mount coherent responses to the centrifugal economic and political forces caused by the emergence of nationalism in many forms. As the EU has generally been a force for good in the world, its fragmentation must only be bad – especially as other bodies like the World Health Organisation and the United Nations are under attack from the "America First" positions of the United States which under its current administration is no longer a word leader
What will happen to Supranational Bodies such as the World Health Organisation, World Bank, IMF, United Nations? (A supranational organization is an international group or union in which the power and influence of member states transcend national boundaries or interests to share in decision making). The European Union and the World Trade Organization are both supranational entities).
As climate change and future pandemics become more important, the fabric of supranational organisations, be they regional or global, becomes more and more important for the survival of species, habitats, and for human wellbeing, health and even survival. There are hundreds of such organisations, ranging from the International Livestock Research Institute, based in Nairobi, through the Organisation for Economic Co-operation and Development and The Alliance of Small Island States.
What about Global Warming and Climate Change?
The pandemic, serious though it is, will pass eventually, but Climate change will not. It is as though such global issues as Global Warming have been blanketed in the Coronavirus. But they will not, and the most serious of them all, climate change and environmental destruction, will emerge in its full horror as this Pandemic subsides. Then the forces for positive changes, many of which have been neglected for many months in many countries, may become stronger and more influential, and the power of the dark forces in the world weakened.
What about the Planet? (Isn't it beautiful, let's keep it that way!!)